Ginger has become fashionable thanks to its many properties, including its ability to speed up metabolism and burn fat. That's why it's no wonder that iced tea made from this root has become so popular. We have consulted an expert who has given us the keys to make it, do you dare to try it?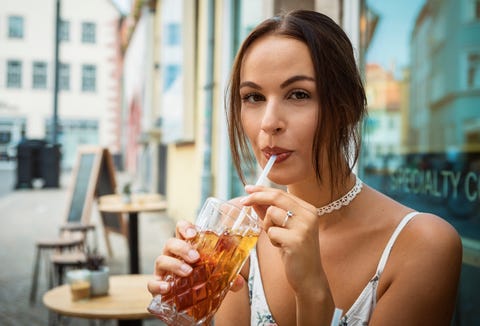 It is one of the main ingredients of South Asian cuisine, the region from which it comes, and is responsible for giving dishes that slightly spicy exotic flavor. But ginger is not just a simple dressing, it is also a plant that is attributed properties related to weight loss, and one of them is its ability to accelerate metabolism , promoting fat burning.
The tea has become the most popular way to benefit from the properties of ginger . Just type the hashtag #gingertea on Instagram for more than 200,000 results to appear. And more so now, during the summer, whose cold version has become especially popular: ginger iced tea has found its way into the foodie and fitness world . But is it really as beneficial as it is painted? We wanted to consult a pharmacist who is an expert in medicinal plants to give us the keys.
(Spoiler: you're going to want to include ginger tea in your diet.)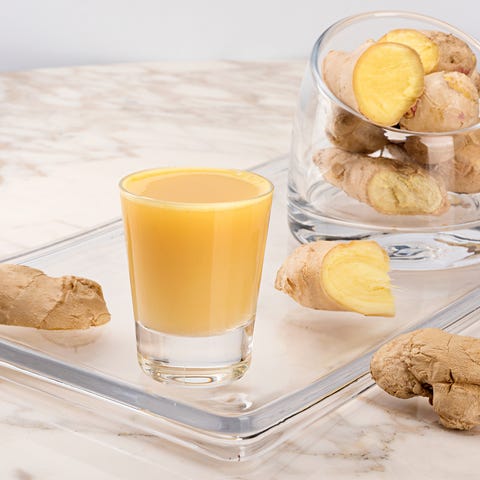 What is ginger?
Probably when you hear about ginger, you automatically associate a mental image with the bags of this tea (it is part of one of Mercadona's most popular infusions , by the way). But the shape of ginger is very different: it is a plant that has flowers whose yellow or purple color characterizes it. It is not the flowers, but the root of the plant that is actually used for consumption. And although it appeared in the forests of South Asia, right now we can find it in supermarkets or herbalists anywhere in the world.
Ginger properties
One of the most frequent uses of ginger is to reduce intestinal discomfort: "It can be useful to prevent gas and reduce abdominal bloating , since it has anti-inflammatory properties", the expert tells us. "It also reduces nausea, especially in pregnant women. And it can even be helpful for colds or asthma, as it has the ability to relieve symptoms in the respiratory tract."
What about losing weight ? Well it turns out that too. Fortunately, ginger helps burn fat and it is not a myth. "It is capable of accelerating the metabolism of our body, that is the reason why it helps to burn fat," he explains. Of course, to benefit from the properties of ginger , we have to know how to prepare it.
Ginger intake will not achieve fat loss by itself. To achieve this, it must be combined with a healthy diet and exercise – especially strength training -. Remember that for a specific fat loss plan, the ideal is to contact a nutritionist and be guided by an exercise professional.
Ginger Iced Tea Recipe – How To Make It Right
The first thing we have to know is that to extract the properties of ginger , we must first do it hot. "Its properties cannot be extracted cold," the pharmacist clarifies. "First you have to boil it, let it rest for a few minutes and then we can drink it cold."
The time of day for iced ginger tea matters too. According to the expert: "The ideal is to do it on an empty stomach, as soon as we wake up, or after the meal." And a very practical trick: "Always keep it soaked so that the ginger root lasts longer and does not die".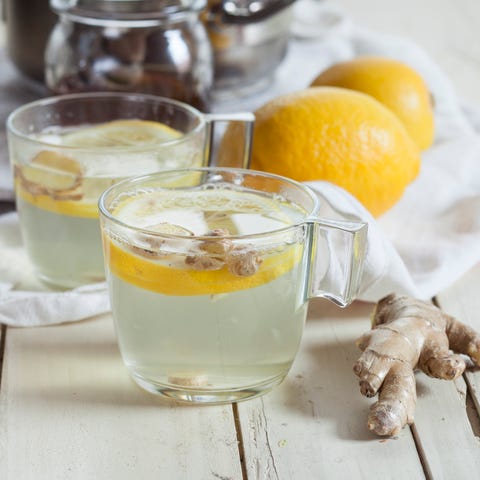 Iced Ginger Tea Recipe:
85 gr. ginger.
The juice of two lemons.
700 ml. of water.
Optional: a tablespoon of honey, cinnamon or spearmint.
First we peel, wash and drain the ginger . We cut it into thin slices and boil it in water for about 5-10 minutes. Then we let it rest for another 5 minutes before straining it. We serve in a jug and add the lemon juice. Add the ice and ready to serve.
And if you want to speed up the process …
You can choose to buy already prepared infusions. The crushed ginger already comes in them, so you just have to put the bag in boiling water and let it cool.